BUS TO RANTEPAO TORAJA
Morning or Night Bus to Rantepao Toraja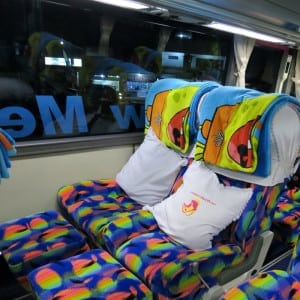 For budget or backpacker traveler, Rantepao Toraja Land can be reach with a daily flight to Makassar (The Capital of South Sulawesi Province, also known as UjungPandang) from all major cities in Indonesia. From Makassar, a short trip of 30 minutes to the Makassar Bus Terminal located in Daya Region. From the Bus Terminal, a selection of Bus Company is available to transfer you to Rantepao Toraja Land. From Standard Bus to VIP Bus is available to choose.
Sulawesi Tour Guide can help you to book the bus ticket in advance to make sure availability for you. If you wish to have a Package Tour, we also offering selections of Toraja Budget Tour and Toraja Backpacker Tour for you to choose. Starting frrom 3 days to 6 days tour in Toraja Land.
If you are traveling 3 Pax and above, we advice you to get a Private Tour or Car Rental from Makassar instead took a Bus Ride to Toraja Land. Because the cost for your Bus it will be almost the same with renting a Private Car. For example, if you get the VIP Bus to Rantepao Toraja Land, it will cost you IDR 200,000 / Pax. Means if you are 3 Pax, you need to spend IDR 600,000 / Pax. And to get a Car Retal, it will only cost you IDR 600,000 / Day for Medium Size SUV like Toyota Avanza or Daihatsu Xenia Vehicle. Please check our Car Rental section for more information about Makassar Car Rental.
Bus Schedule to and from Toraja – Makassar
COMPANY NAME

FROM MAKASSAR

ARRIVE IN TORAJA

FROM TORAJA

ARRIVE IN MAKSSAR

METRO PERMAI

09.00 AM
21.00 PM
19.00 PM
06.00 AM
 09.00 AM
21.00 PM
                    18.00 PM
06.00 AM

LITHA & CO

09.00 AM
21.00 PM
19.00 PM
06.00 AM
 09.00 AM
21.00 PM
  18.00 PM
06.00 AM

NEW LIMAN

09.00 AM
21.00 PM
19.00 PM
06.00 AM
 09.00 AM
21.00 PM
18.00 PM
06.00 AM

BINTANG PRIMA

09.00 AM
21.00 PM
19.00 PM
06.00 AM
 09.00 AM
21.00 PM
18.00 PM
06.00 AM

MANGGALA TRANS

09.00 AM
21.00 PM
19.00 PM
06.00 AM
 09.00 AM
21.00 PM
18.00 PM
06.00 AM