A Great Saver of Discovering SULAWESI with SulawesiTourGuide.com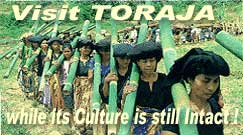 TORAJA, BUGIS & BIRA: Sample Package Tour
TOUR CODE : IGA – 107
TORAJA, BUGIS & BIRA TOUR (9 D / 8 N)
DAY 01 : MAKASSAR AIRPORT – PARE PARE- TORAJA (L.D)
After meeting service upon arrival at the airport, We take an eight-hour drive up to Tana Toraja passing through Bugis villages with a few stop on the way including visiting the interior of the bugis houses which built on stilt. Stop by Pare-pare to enjoy lunch at a beautiful sea-food restaurant located up on a hill with sea view.
Afternoon, refreshment stop at Bambapuang to see the erotic mountain of Buntu Kabobong and enjoy some local cakes with traditional coffee or tea. Late in the afternoon arriving in Toraja land, directly check-in at the hotel for your overnight stay and dinner.
DAY 02 : FULLDAY TORAJA TOUR (B.L.D)
Morning after breakfast, exploring Toraja: the Land Full of Surprises. First to Lemo, a cliffside burial site with effigies up on balconies. Then to Sangalla' to see baby graves in a big tree. Visit Suaya, the royal burial site of Puang Sangalla' where you can see all kinds of graves existing in Tana Toraja from the ancient to the present time. After lunch en route, visit the Ke'te' kesu' traditional village with rows of traditional tongkonan houses and granaries and hanging graves. Back to the hotel in the afternoon. Dinner and stay overnight at hotel.
DAY 03 : FULLDAY TORAJA TOUR (B.L.D)
Morning after breakfast, We have another fullday exploring Tana Toraja; the Indonesia's Mountain Eden. Visit Sadan village, the Toraja weaving center. Visit Pallawa, a spectacular traditional village with rows of tongkonan houses and traditional granaries. Visit Bori, a burial place with megaliths which are the remains of the Torajan ancient stone cultures. After lunch en route, visit Nanggala, a traditional village with thousands of bats up on the bamboo trees, and a traditional tongkonan house with a human skull on top of it. Afternoon, back hotel and stay overnight.
Note : A traditional funeral ceremony which can be reached by foot will be included within two days Toraja tour. A typical torajan local fruits & live stuff market can also be visited during your two days tour in Toraja Land.
DAY 04: Rantepao – White water rafting (B.L.D)
Trek alongside the river, passing remote Torajan villages. Camp riverside while your Guide prepares the dinner. Enter the river again above Class IV rapids for a day of world class whitewater rafting. Mountains tower 2,000 feet above. More than 20 sets of rapids end in a narrow gorge.
DAY 05:  Whitewater rafting (B.L.D)
A day packed with ClassIII and IV whitewater action, sweeping wave trains, swift technical rapids, challenging flush throughs and a few relaxing floats. Back to Rantepao for your overnight stay and dinner.
DAY 06: TORAJA – SENGKANG – LAKE "TEMPE"(B.L.D)
Morning after breakfast, take a four-hour drive to the silk city of Sengkang. Stop by Bambapuang for a refreshment to see the erotic mountain of Buntu Kabobong once again. Early afternoon, check-in at the hotel. After lunch, enjoy boat ride on the lake Tempe to the floating villages. Witness the the locals doing their daily activities on the lake. Evening, enjoy dinner in a traditional-bugis-nobel style where we are served by boys and girls in traditional dresses.
DAY 07 : SENGKANG – BIRA (WHITE SANDY BEACH) (B.L.D)
Morning after breakfast. Proceed to Bira with some pictureque-stops on the way and main stop is lunch enroute. After passing through some typical villages of bugis-makassar. You will be arriving at the edge of south sulawesi island which is very famous for the local people who build the traditional wooden-sailing-boats at Tana Beru. Afternoon arrive at Tanjung Bira and Check-in directly at the hotel. free at leisure while witnessing the beautiful sunset from the Bira beach. Dinner and stay overnight at hotel.
DAY 08 : BIRA – MAKASSAR (B.L.D)
Morning after breakfast, drive back to Makassar with a stop at Tana Beru boat-building center to watch the boat masters building huge traditional Pinisi boats in traditional way. After lunch enroute, we proceed to Makassar city. Evening, enjoy seafood dinner at the famous sea-food restaurant in Makassar city. Stay overnight at hotel.
DAY 09 : MAKASSAR – AIRPORT – OUT (B)
After breakfast at hotel. A short city tour in Makassar city , visiting the sea-shell collection & orchid garden, fortress, sailing harbour and lunch at sea-food restaurant. On time transfer to Airport for your next destination (noon flight).
~~~   End of Service ~~~
Note : If you found the above-stated accommodations were not on your style. Don't worry ! We can still arrange your accommodation based on your preferred type of lodging, such as bed & breakfast basic, budget class or a kind of homestay, or if you require to upgrade from standard to luxury / classed type of hotel, then we surely can manage of your taste.
How to book your trip :
First you may check out the above sample tour programs and if you're interested then we ask you to take a few minutes of your time to fill in the Reservation Form. From this form we learn about your preferences and will be able to arrange your very individual holiday.
The price of the whole trip will be sent to you by e-mail promptly. Study the above Itinerary very carefully and tell us where you want some changes to be made.
For any of your inquiries, please send us an e-mail to [email protected].