Flight to Tana Toraja, Twice a Week
A Flight to Tana Toraja (Airport Code: TTR) from Makassar (Airport Code: UPG) is accessible twice a week. Depart from Makassar every Tuesday and Friday morning, approximately 7AM, flight return from Tana Toraja to Makassar within the same day, departed on 1PM local time. A 50 minutes flight from Makassar to Tana Toraja Airport across the deep jungle and mountainous area of South Sulawesi Province. Tana Toraja Airport is located in Rantetayo district of Tana Toraja region. From Tana Toraja Airport to Rantepao city, will take approximately 1 hour driver.
Aviastar serves 2 flights per week to Tana Toraja with DHC-6-300 Twin Otter Aircraft, with up to 20 passengers.
Tana Toraja Airport Information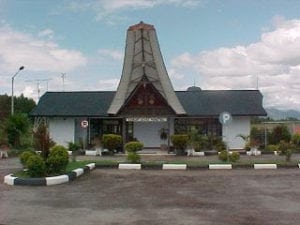 IATA Code : TTR
ICAO Code : WAWT
Long / Lat : 119.819828 / -3.042742
119° 49′ 11,38″ BT / 3° 2′ 33,87″ LS
Elevation : 2.840,00 mdpl (9.317,47 ft dpl)
Aviastar MV-7812
Destination: Makassar (UPG) – Tana Toraja (TTR)
Length of Flight: 0h 55m
Departure: 07:00 / 7:00 am
Arrival: 07:55 / 7:55 am
Price Range : IDR 300,000 – IDR 400,000
Domestic flight MV7812 by Aviastar serves route within Indonesia (UPG to TTR). The flight departs Makassar, Sultan Hasanuddin International Airport on 07:00 (7:00 am) and arrives Tana Toraja, Pongtiku Airport on 07:55 (7:55 am). Flight duration is 0h 55m.
Book your Toraja Tour now with SulawesiTourGuide.com. Please found bellow sample Itinerary of Tana Toraja Tour with Flight to Toraja.
TANA TORAJA TOUR WITH FLIGHT
4 DAYS / 3 NIGHTS
ITINERARY
DAY 01 : ARRIVAL TANA TORAJA – TORAJA TOUR (L,D)
Arrival at Tana Toraja Airport, meeting service with your Guide and Driver, and start the Full day Toraja tour by visiting : The stone grave at LEMO. The royal tombs of SUAYA.The baby-grave in the tree at KAMBIRA. Cultural performance at SANGALLA. Lunch will be served in Rantepao at local Restaurant. After lunch,continue to visit the Natural burial cave at LONDA. The traditional carving village at KETE KESU. Back to Madarana hotel  for overnight and dinner.
DAY 02  : TORAJA FULLDAY TOUR (B.L.D)
After breakfast at hotel. (check-out hotel) Full day tour visiting : The traditional village with buffalo horns in front of their houses at PALAWA. The traditional weaving village at SA'DAN. The Ancient megalithic stone at BORI. The terraced rice-field at BATUTUMONGA and stop here for  having Lunch at local restaurant with a beautiful scenery. After lunch visiting the Boulder grave at LOKOMATA. Late afternoon, check-in at Mentiro Tiku Guest-house for overnight and dinner.
DAY  03 : TORAJA TOUR  (B.L.D)
After breakfast at hotel (check-out hotel Check-out from Mentiro Tiku Guest-house You will take a small nature-walk down to PANA , trekking through some typical Toraja villages and rice-field terrace to TIKALA. The driver will be stand-by at TIKALA and drive you to Rantepao. Lunch will be served at Rachmat restaurant. After lunch, take a a little walk around the town of Rantepao and then proceed to MARANTE to see the ancient grave. Continue to NANGGALA to visit the Wealthy family with their 16 typical granaries standing in a row as a sign of their ranking of noble family. Late afternoon, transfer to Madarana HOTEL for your second-stay in this hotel and dinner.
DAY 04 : TANA TORAJA – MAKASSAR by Flight (B)
Breakfast at hotel, ontime proceed with Airport Transfer to Tana Toraja Airport for your next destination flight.
~~~ End of Services ~~~